You don't have to miss out on delicious cannabis edibles just because you're vegan.
By cooking with cannabis-infused coconut oil, you can keep any recipe vegan while still giving it a little extra something.
Cannabis coconut oil is not only easy to make, but also can be used in many ways as a replacement for other oils like vegetable or olive oil.
The next time you're feeling particularly creative in the kitchen, put one of these vegan cannabis recipes to the test!
Vegan Peanut Butter Ganja Fudge
Our chocolate and peanut butter cannabis fudge is the best of both worlds in one creamy, vegan-friendly package.
Ingredients:
1 cup of cannabis coconut oil
3 ½ cups of powdered sugar
1 cup of peanut butter
1 cup of cocoa powder
1 teaspoon of vanilla extract
Directions:
Use a mild-tasting cooking oil, such as coconut oil, canola oil or vegetable oil, to lightly grease a baking dish.
Melt your cannabis oil over a low heat in a medium to large sized saucepan. Use a spatula to mix in the powdered sugar, stirring until the ingredients are entirely combined. Then, stir in the cocoa, peanut butter, and vanilla extract.
Next, take your mixture and pour it into an evenly greased pan. Then place the whole thing in the fridge to cool off. Once your fudge is fully hardened and chilled, cut it up into smaller squares so it's easy to eat. And that's it! Enjoy your delicious creation.
Vegan Canna-Banana Sundae
This canna-banana sundae is anything but boring–it's full of delicious natural flavors like banana, cocoa, and coconut. You'll want to make this your go-to treat the next time you need medication and have a sweet tooth.
Ingredients:
3 bananas, peeled and sliced
2 tablespoons of lemon juice (to prevent the bananas from browning)
3 tablespoons of canna-oil
3 tablespoons of cocoa
2 tablespoons of honey or agave nectar
1/2 teaspoon of vanilla
1/3 cup of toasted coconut
Directions:
Combine sliced bananas with lemon juice, and then freeze them.
Add the canna-oil, cocoa, honey or agave, and vanilla to a small bowl. Thoroughly stir until combined.
In a food processor, puree the frozen bananas until smooth and creamy.
Top four dishes with canna-chocolate sauce and toasted coconut, using a spoon to scoop the banana puree into each.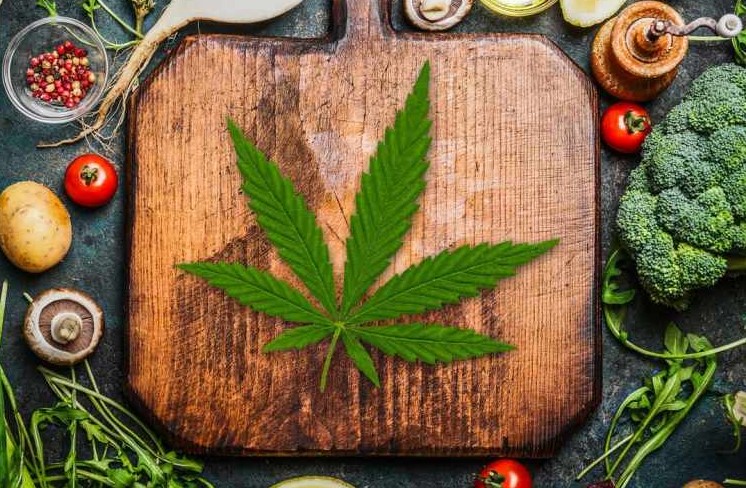 Pumpkin Spice Pancakes
The key to a delicious cannabis-infused breakfast is making these pumpkin spice pancakes from The Weed Scene. Smaller servings are best for this recipe because the silver dollar pancakes pack quite a punch. Top with maple syrup (or another fall favorite) and enjoy!
Ingredients:
1 cup of vanilla flavored soy milk
1 tbsp of lemon juice
¼ cup of canna-oil
2 tablespoon of agave nectar
2-3 overripe bananas
1 teaspoon of vanilla extract
1 cup of white whole-wheat flour
½ cup of all purpose flour
1 teaspoon of baking powder
1 teaspoon of baking soda
1 teaspoon of pumpkin pie spice
¼ teaspoon of cinnamon
½ teaspoon of salt
Directions:
In a small bowl, whisk together soy milk and lemon juice. Once combined, allow it to sit for five minutes.
In a bowl, mix together the following: both flours, baking powder, baking soda, salt, cinnamon and pumpkin pie spice.
Place mashed bananas into a large mixing bowl, ensuring to leave a few lumps. Add canna-oil agave nectar, vanilla and soy milk mixture; stir well until combined.
To ensure a consistent mix, add the dry ingredients to the wet ingredients in small increments while stirring. Make sure to break up any clumps in the batter for a smooth final product.
To begin, set a skillet on the stovetop to medium heat. Then, once it is heated up, lightly grease or butter the surface before adding a small tester pancake. When the pancake begins to bubble, it will be ready to flip; however if you notice that the bottom ofis burned , simply reduce the heat.
The batter should be dropped into the skillet in small discs only when the temperature is right. Each side should be cooked for about 5 minutes before being kept in a warmed oven. Topping it off with maple syrup will complete the perfect dish!
Hearty Vegan Canna-Vegetable Soup
This is a thick and deeply flavorful soup that will satisfy your hunger without any meat. It's also sure to leave you feeling warm and fuzzy all over. If you want an even heartier meal, add a cup of cooked pasta or rice to the soup.
Ingredients:
1 tablespoon of olive oil
1 large leek (white part only), sliced
1 medium onion (yellow or white), diced
1 celery rib, diced
1 large carrot, peeled and diced
1 tablespoon of minced garlic
2 tablespoons of canna-oil
3/4 cup of red wine
1 tablespoon of vinegar (red wine, balsamic, or cider)
1 can (16.5 ounces) of diced tomatoes and their juice
1 tomato can (16.5 ounces) filled with water
4 cups of vegetable stock
1/2 small head of green cabbage,sliced
2 cups of chopped mixed vegetables
3 tablespoons of soy sauce
1 teaspoon of black pepper
1 teaspoon of dried oregano
Directions:
In a large stockpot, heat olive oil until it reaches a medium-high temperature.
Add leeks and onions to the pan. Stir continually until they start to brown (around ten minutes).
After adding the carrots and celery to the pot, stir it occasionally for five more minutes.
After you turn the heat down to medium, add in the cannabis oil and garlic. Cook while stirring for 1 minute. To get all of the bits from the bottom of the pot, mix in wine and vinegar.
In a pot, add vegetable stock, tomatoes, water, cabbage, and mixed vegetables. Bring the mixture to a boil then lower the heat to let it simmer. Cover the pot and cook for 10 to 15 minutes (until vegetables are tender). To finish off, add soy sauce oregano, and pepper. Let it cook for an additional five minutes.
Serve this dish hot, and freeze any leftovers for another meal later.
Dairy-Free Canna-Coconut Milk
This delicious recipe for vegan coconut cannabis is perfect for using your kief. You can easily substitute it in any drinkable cannabis recipe that calls for cannamilk, or enjoy it alone. It's both tasty and easy to make!
Ingredients:
1 gallon of coconut milk (vanilla or unflavored)
1 gram of kief
Directions:
Before you begin, it's important to decarboxylate your kief.
The double boiler method is the best way to heat your coconut milk. Keep it on the lowest setting for optimal results. Then, add in the kief and stir gently with a spoon until all of the cannabis has been fully mixed in.
Let the cannabis-coconut milk mixture sit on low heat for one hour. Keep a close watch so it doesn't burn and form a skin on top, but don't let it get too hot and scald.
After an hour, use a fine mesh strainer or cheesecloth to strain the canna-coconut milk (without the skin) into a heat-friendly container.
After you've warmed your milk, or let it sit in an ice bath for a few minutes, give it a stir before enjoying.