The Jack Herer lemon strain is a delicious cake flavor made with hazelnut, Terpinolene, and of course lemon flavoring.
If you're a beginner baker, you might find cakes difficult to make. Getting the perfect texture, oiliness, and consistency can be tough – it requires knowing when to stop stirring. However, this lemon pound cake recipe is one of the simplest ones out there. Most pound Cake recipes use oil or other more complicated ingredients like different extract measurements because it's a dense cake that needs moisture. If you have cannabutter on hand though, all you need are a few simple additional elements for your dessert to taste heavenly – no matter your skill level in baking!
Lemon pound cake recipe
If you're hoping to find an easy recipe for something sweet and tangy, stop right here! This lemon pound cake is everything you could ever want. It's dense and light at the same time, moist but also flaky. You really get the best of both worlds with this dish. However, it is crucial to remember that cold ingredients like eggs or butter will need to be left out at room temperature for a minimum of 30 minutes before you start. Otherwise, it could drastically change the texture and result in an final product that you're not happy with.
Preparation: 10 minutes
Cooking: 55 minutes
Calories: 196
Servings: 8-10
Lemon pound cake ingredients
1 ½ cups flour
1 cup granulated sugar
½ cup cannabutter
1/3 cup sour cream
3 large eggs
2 tablespoons lemon zest
1 tablespoon lemon juice
2 teaspoons vanilla extract
¼ teaspoon baking soda
¼ teaspoon baking powder
¼ teaspoon salt
¼ teaspoon butter (for greasing)
Glaze ingredients
½ cup icing sugar
1 tablespoon lemon juice
Tools
Loaf pan
Parchment paper
Large bowl
Electric mixer
Medium bowl
Instructions
Preheat the oven to 325 F.
Coat an 8×4 loaf pan with grease and line it with parchment paper.
Place the butter and sugar in a large bowl. Use an electric mixer set to medium speed so that the ingredients cream together.
Now, add the eggs in one at a time and whisk each one thoroughly.
Prevent clumps by scraping the bowl's sides, then beat in vanilla, lemon juice, and zest.
After rinsing the beater attachments, put the rest of the ingredients into a separate bowl and mix thoroughly until there are no lumps.
Add the ingredients in the medium bowl gradually to those in the larger one until they are all combined smoothly.
After greasing and lining your loaf pan, pour in the batter and bake for 55 minutes. Once done, check to see if it's fully cooked by piercing the middle with a toothpick – if it comes out clean, it's ready!
Allow the loaf to cool for at least one hour so that you can then glaze your delicious cannabis-infused masterpiece.
In a small bowl, mix all of the glaze ingredients together until smooth. Then, use a silicone spatula to coat the lemon pound cake evenly.
Serving
The intensity of your lemon pound cake is going to rely on how strong the cannabutter is. Although, because this dessert asks for a lot of cannabutter, we recommend that you cut the loaf into at least 8 different servings. For those with a low tolerance, half a slice might be enough to give you an intense experience, so don't forget to start small and go slow for the best outcome.
Storage
If you want to keep your lemon pound cake moist and dense, store it in an airtight container at cool but not refrigerated temperatures. Storing this dessert in the fridge or exposing it to air will make it dry, thick, hard to chew, and unenjoyable overall, so put the slices in either a baggie or a Tupperware container that seals freshness in well.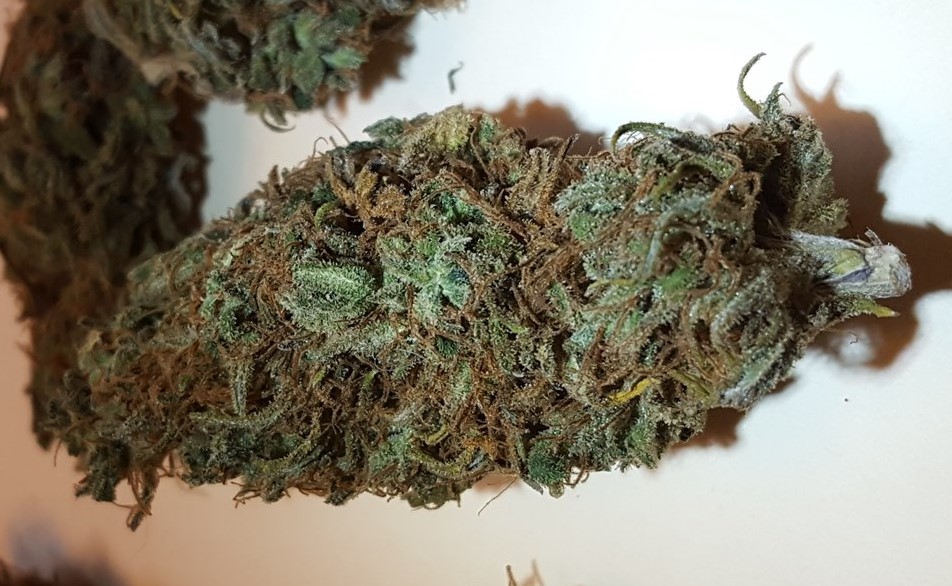 About Jack Herer Strain
Jack Herer's flowers are not especially colorful: the leaves are pale to medium green, and the buds are more elongated than rounded. There is a high trichome count, making this plant very sticky to touch.
Jack Herer makes up for its lack of visual appeal with a pleasant scent. If cured properly, the flowers have a deep floral bouquet mixed with hints of orange and lemon zest. The dense buds also give off more of a citrus scent when broken open, along with a peppery kick. When burnt, the smooth smoke tastes herbal and leaves behind a spicy-floral odor, similar to potpourri.
Jack Herer is a quick-hitting strain that provides users with a strong headrush that is more energizing than disorienting. As time progresses or greater doses are consumed, this initial tingle spreads down the neck and through the limbs, creating a sense of relaxation without immobilizing. What follows is an alert and easily suggestible high marked by creativity. This Jack Herer is perfect for individuals who want to brainstorm or visualize due to its easygoing effects. This strain provides a relaxed feeling while also stimulating the mind, leaving users in control of their actions. Jack Herer is excellent at treating low-level stress, anxiety, and depression and has been known to provide relief from migraines. Jack Herer, while not high in CBD, can help alleviate chronic aches and pains. If you have trouble sleeping though, this might not be the best strain for you since it is known to stimulate thought and mood–keeping users awake. Jack Herer is better suited as a daytime medication rather than something to take before bed. Some even consider it the perfect "wake-and-bake" strain!