New Year's is a time to celebrate with loved ones, and what better way to do so than by cooking together? Here are some of the best weed-infused recipes for New Year's Eve. Whether you're staying in or throwing a party, these dishes will be sure to impress your guests and give you all the comfort you need during such troubling times.
Today's blog features content for everybody, and I always want to remind you to use the marijuana mantra – especially if you're just starting out:
Weed Mimosa's For NYE
Let's start 2022 with a bang by toasting the end of 2021! There's nothing more festive and fun than Champagne, so read below and create your own delicious weed mimosa.
Ingredients
1/8 Ounce Cannabis
A bottle of Vodka
Strawberries for decoration
Instructions
Setting your oven to 240F/115C, decarboxylate your weed by evenly spreading it on an aluminum foil-covered tray. After 30 to 40 minutes have passed, remove the tray and let it cool.
If you want to make potent cannabis tea, start by crushing the leaves into smaller pieces. Then, put them in a cheesecloth and tie it up before letting it steep in hot water.
Soak your cannabis product in a bottle of vodka for at least 24 hours, ensuring it is wrapped tightly in pantyhose or cheesecloth first.
Juice 4 oranges and refrigerate
In order to rim the glasses for decoration, place sugar in one small bowl and banana liqueur in another.
To rim the glasses, first use banana liqueur followed by sugar. Set the prepared glasses aside until ready to serve.
Pour orange juice till half of the Champagne glass is full.
In each glass, add around a small tablespoon of cannabis vodka.
Add champagne until the glass is almost full.
Top with banana liqueur
Decorate with a Strawberry and Serve
Pink Champagne & Cannabis Cake
This cake is layered with pink champagne and silky smooth vanilla buttercream. The star of the show is the best-tasting cannabutter to bring it all together. You can make everything in advance, and bake it, assemble and eat it on New Year's Eve.
This light, fluffy pink cake is perfect for celebrating any occasion! It's infused with cannabis butter and Champagne, making it a fun and unique treat.
Ingredients
2 1/4 cups All Purpose Flour
2 1/4 tsp baking powder
3/4 tsp salt
3/4 cup cannabutter unsalted, room temp
1 1/2 cups sugar
5 large egg shites room temp
1 1/2 tsp vanilla exract
1 cup pink champagne
1 tube fushia colour gel
Buttercream Frosting
5 large egg whites
1 1/2 cups sugar
1 1/2 cups unsalted cannabutter
1 tsp vanilla extract clear if possible.
Fushia colour gel
Instructions
Preheat oven to 350F. Generously grease and flour three 6″ cake rounds, being sure to get into all the creases. Cut parchment paper to size of rounds and line each pan..
In a medium bowl, whisk flour, baking powder, and salt. Set aside.
Fit your stand mixer with the paddle attachment. Then, beat the cannabutter until it becomes smooth. Afterwards, add sugar and continue to beat on a medium-high setting until the mixture becomes pale and fluffy (which should take 2-3 minutes).
Reduce speed and add egg whites one at a time, fully incorporating after each addition. Add vanilla.
Add flour and champagne to the bowl in 3 increments, beginning and ending with flour. Stir after each addition until completely mixed.
Add a small amount of fushia colour gel using a toothpick. Mix to incorporate but try not to overmix.
Spread batter evenly into prepared pans. Smooth the tops with a spatula.
Bake for approx. 35 mins or until a toothpick inserted into the center comes out mostly clean.
Place cakes on wire rack to cool for 10mins then turn out onto wire rack to cool completely.
Artichoke and Weed Dip
This dip is not only gooey and delicious, but it's also packed with healthy ingredients like cannabutter and cheese.
This dish is perfect to share with friends, and they'll love indulging in all the creamy goodness. It's also decadent and loaded with flavor!
Ingredients
8 oz Cream Cheese Full fat.
2/3 cup Sour Cream Full fat.
1/3 cup Mayonnaise You guessed it! Full fat.
4-6 tbsp Cannabutter The more Cannabutter, the more possible buzz!
2 cups Mozzarella cheese split in half – some you'll use later
2 cloves Garlic – Fresh Minced
1/2 cup Parmesean Cheese Fresh, grated. Don't skimp here!
1/2 cup Gruyere Cheese
10 oz Frozen Chopped Spinach Towel dry to remove extra moisture
14 oz Artichoke Hearts Marinated & Chopped
1 whole Pumpernickle Bread – Freshly Baked Save for later.
Instructions
Preheat oven to 375 degrees F.
In a bowl combine cream cheese, sour cream, cannabutter, mayonnaise and garlic with a hand mixer until fluffy
Stir in parmesan cheese, 1 cup mozzarella cheese, gruyere cheese, spinach, and artichokes.
Place into a 9×9 oven safe dish, and top with remaining 1/2 cup mozzarella cheese.
Bake 25-30 minutes or until bubbly and cheese is browned.
While your dip is baking, you can cut a hole on the top of your bread, making sure you don't cut all the way through – this is where your dip will be put into – so you want a good thick base at the bottom so the dip doesn't run out!
Gently remove the "lid" and inside pieces and tear the bread up into small little chunks – perfect for dipping later on.
Place the bread on a large plate, and put the bread chunks around the edges.
Once your dip is ready, let it cook for just a few minutes, and then transfer it over into the bread bowl.
You can add a little more cheese on top if you like, and you can always include tortilla chips, rice crackres, veggie sticks or anything else you like to dip! Enjoy!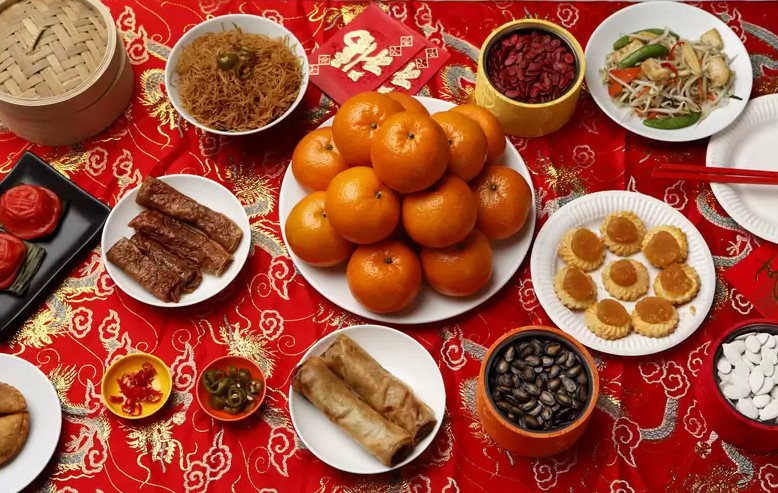 Spicy Korean Chicken Wing Sauce
These chicken wings are messy, spicy, and delicious! Made with cannabis honey, they'll have you licking your fingers and wanting more. A great and easy shareable for New Year's Eve that delivers on taste and will get you feeling high and mighty!
Ingredients
Batter
1/2 cup cornstarch
1/2 cup flour all-purpose
2 tsp salt
1 cup water
Korean Sauce
2 tbsp soy sauce
1/4 cup Cannabis Honey
2 tbsp rice vinegar
2 tbsp gochujang sauce Korean spicy sauce
2 cloves garlic minced
1 tbsp ginger grated, peel/skin removed first.
Instructions
Mix the ingredients for the batter in a bowl until smooth with no lumps.
Heat oil in a pot to 340°F.
Dip a chicken wing into the cornstarch, shaking off excess, then slowly place the wing into the batter using tongs.
Fry half of the wings at a time for about 5-7 minutes, until light golden. Then do the other half.
Drain the wings or pat dry on paper towel and increase the heat. Heat oil to about 375°F
Fry the wings a second time until golden brown and crispy. Drain and set aside on paper towel.
In a saucepan, combine all the ingredients for the sauce and stir until bubbling. Toss in the wings and serve immediately.
Enjoy!
Weed Nachos
With our weed nachos recipes, you can make your own cheese or add both ingredients together for an unforgettable snack.
Equipment
Baking Sheet
Frying Pan/Skillet
Aluminum Foil or Parchment Paper
Oven & Stove
Ingredients
NACHOS INGREDIENTS
1 lb ground beef you can also add shredded chicken if you like
1 pkg taco seasoning be adventurous and make your own
3/4 cup water
1 bag favorite tortilla chips
1 1/2 cups cannabis nachos cheese
1 cup salsa
1 cup sour cream
1 can black olives or not if you hate olives
4 green onion sliced up finely – try using scissors!
1 whole roma tomatoe cut up into small chunks
2-3 jalapeno peppers cut into small slices with seeds for extra kick
1 tsp cayenne pepper if you want it extra spicy!
Instructions
In a frying pan or skillet over medium heat, cook and stir ground beef until it crumbles and is no longer pink. This will take 5 to 10 minutes. Drain the excess grease. Stir in taco seasoning mix and water, then simmer until the beef mixture has thickened, 8 to 10 minutes.
While your ground beef is cooking, you can start chopping your vegetables and toppings, preparing everything to be put on your nachos! Set aside.
Preheat your oven to 350 degrees Fahrenheit.
Line a baking sheet with aluminum foil OR parchment paper. Spread tortilla chips on the prepared baking sheet.
Layer by taking turns with cannabis nacho cheese, ground beef, and all of your toppings. Then start a new layer with chips, cheese and toppings. Finally, make sure the top has a lot of cheese drizzled over so everything sticks and gets covered evenly.
Save the sour cream and salsa for the end.
Cook in oven for 5-7 minutes.
Drizzle sour cream and salas overtop and if there is any left over cheese, dip liberally!