As cannabis culture continues to be accepted in society, those who are new to the world of weed may find themselves feeling anxious. Just like fashion trends, sports teams and political opinions; mastering marijuana's details and etiquette is essential. Beginners must have a strong knowledge base regarding all things cannabis but it also helps if they use quality smoking accessories that give them an extra boost of confidence while enhancing their indulgence experience.
To make your smoking experience as stress-free and enjoyable as possible, we have curated a special selection of products designed specifically for you. Let us take the guesswork out of smoking – so you can sit back and relax!
Infinity Airtight Storage Jars
If your buddy is out of the restrictive living conditions he once was, offer him a modernized solution to his cannabis storage. Instead of baggies hidden away in an old shoebox, gift him with airtight jars that keep strains fresh and secure without being too loud or showy. He'll be sure to appreciate it!
Hammertone Serving/Rolling Trays
Rolling trays do more than just help simplify the rolling of joints; they are also incredibly practical gifts! If you know someone who is guilty of spilling their weed or doesn't have a proper place to store it, gifting them Tetra's exquisite tray will be like granting their wish. Not only is it strong enough for everyday use, but its breathtaking aesthetic grows even more beautiful with each passing year.
Bloom Farms Highlighter
If your friends in California have heard of Bloom Farms and their remarkable cannabis oil, they know that the Highlighter vapor pen is a must-have item. Not only does it come with an USB charger and 500mg of Sativa, Indica or Hybrid Oil cartridge -it's also very user friendly! What makes this product even more desirable is its stylish design paired with its mission to donate one meal per purchase to underprivileged families. It simply doesn't get better than that!
The Peak Smart Dab Rig
When it comes to using a dab rig, there's an overwhelming number of factors to consider. From the temperature variations and concentrated extracts, right through to all the issues that come with traditional water pipes – it can be hard to know where to start! Luckily for you though, investing in a digital rig is one way ensure your experience is reliable every time. With automated heat control and sensor monitoring technology built-in; you'll never have worry about vaporizing essential terpenes when they're not needed – giving you complete freedom on what should become a pleasurable journey each session.
G Slim Ground Material Pen
We have been fans of the ease offered by one-hitter pipes for some time. However, as technology continues to develop, our opinions about it are evolving too. That's why we now select the G Slim Ground Material – a pen rig with an heating coil that can heat flower without having to light anything! Even better? A starter kit costs just $14 and replacement heads only cost $5 (which is logical since they're complicated enough to clean multiple times). Isn't that amazing?
The Original Stash Bag
Transporting your favorite cannabis product has never been easier than with this odor-proof bag featuring zippers tailored for tight closure. Its muted colors ensure that it will easily blend in with other items in a backpack or suitcase, and its airtight design traps all the delicious smells of freshly purchased nuggets inside! Don't hesitate to grab one of these bags if you're looking for something reliable to transport or store your cannabis products.
RAW Pre-Rolled Cones
Everyone from the novice to an expert joint roller can benefit from pre-rolled cones! Rolling joints can be a tedious task, and this thoughtful gift is sure to save your friends who always need help. With pre-rolled cones, you'll reduce hassle and maximize time – get yours today for yourself or those around you!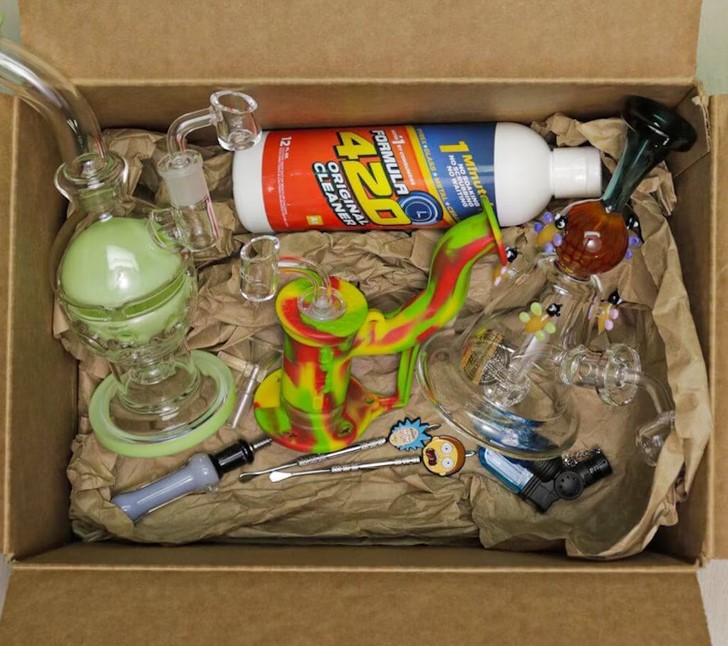 Balance Pipe
Introducing the Balance Pipe: a smoking device crafted for style and performance. This pipe is expertly engineered to ensure optimal weight distribution, so that you never have to worry about it tipping or spilling – no matter how much fun you're having! It's also made of exceptional materials that won't overheat your weed; plus, its sleek design will look great when left out on any coffee table. For friends who appreciate both architecture and cannabis advocacy – this one's for them!
Aura Waterpipe
Introducing Aura – the revolutionary water pipe designed and engineered with every stoner in mind. Not only is it easy to clean, but its simple design is also incredibly durable – making it suitable for all types of smokers! Whether you're looking for a replacement piece or just want something without too much fuss, let Aura be your go-to choice! It's perfect for anyone who wants an uncomplicated smoking experience as well as those who sadly have broken pieces lying around. Don't wait any longer; get Auratoday and enjoy effortless hits from now on.
Vessel Ash
Tech-savvy cannabis aficionados will love Vessel's ingeniously designed smoking accessories. This three-piece ashtray is a perfect example – it not only looks chic, but is also crafted with superior quality and easily integrates into any interior design scheme. Whether you prefer modern or classic décor, this ashtray will ensure that your home looks great while providing the convenience of an excellent place to smoke. Don't miss out – indulge in its stylishness combined with top craftsmanship and get yours today!
Sophie Lou Jacobsen for Tetra Valet Stand
Sophie Lou Jacobsen and Tetra have created a beautiful vape stand that you absolutely must add to your wish list! Not only does it provide the ideal angle for oil cartridges, but nonsmokers can also appreciate its additional uses as a phone holder, pen/pencil organizer or hands-free iPad shelf. This remarkable piece from Sophie Lou Jacobsen and Tetra will be sure to make any room in your home shine brighter than ever before!
Buddy One-Hitter $30
Take your smoking experience to the next level with this portable, discreet one-hitter! Its matte black finish and anodized aluminum body are sure to turn heads. It also comes with a Mylar bag that masks odors and a childproof plastic carrying case for those on-the-go moments. The best part? You can add up to 30 characters of customization for only $5 more – making it even more unique! Kassia Graham, director of national projects at Cannaclusive calls it "a much needed update" so why wait any longer? Upgrade today and get ready to enjoy your new little friend!
Elevate Jane Mimi
The Mimi from Elevate Jane is an embodiment of class, adding a touch of boldness without the frills. Graham attests that it can be used as a stunning display piece even when not in use! Both modern design and two percolators have been applauded by numerous users, delivering full-flavored hits with no roughness or bitterness. If your giftee loves water pipes then The Mimi is guaranteed to bring them immense joy!
Bubble Bowl Ashtray
Make sure your weed experience is never dulled by an inferior ashtray – step up to these incredible 3D-printed bowls from Tetra! Not only do they add a bold and vibrant touch, but their deep design ensures quick collection and effortless tidying. You don't need to accept mediocrity any longer; treat yourself with something that will significantly boost the enjoyment of every smoking session.
Cannabis Cocktails, Mocktails, and Tonics
If you or your loved one are looking to break into the world of Cannabis cocktails and mocktails, look no further than Warren Bobrow's revolutionary book. This amazing volume offers an expertly crafted guide on how to create balanced drinks with cannabis that will leave even the most experienced smokers in awe! So if you're someone who enjoys a good drink and want to explore all aspects of edible cannabis culture, this is exactly what you need for medicinal or recreational use – it'll be life-changing!
Cali Crusher Grinder
Look no further for a top-grade grinder – the Cali Crusher's four-piece system is here! Crushing tons of material has never been easier, as this product efficiently locks together and features well designed screws that won't get clogged by excess material. We have tested several grinders in our lifetime, and none can outmatch the Cali Crusher. So if you're looking for an item to crush up weed with quality results, then the Cali Crusher should be on your list without hesitation!
Green Jay Single Tube
This incredible present is sure to bring a smile to your cannabis-loving friend's face – much more than just an ordinary stocking stuffer! The Green Jay Single Tube offers extra protection for perfectly rolled joints, with child-lock style tubes that keep out any external elements while containing every scent. With its available range of colors, you can even add a bit of pizzazz and personality!
Equilibria Pineapple Dragonfruit Daily Gummies
If you're searching for an unparalleled treat, try Equilibria's organic gummies! Each one is packed with 10 milligrams of hand-harvested full-spectrum CBD and a delicious blend of tropical pineapple and dragonfruit flavors that will tantalize your taste buds. Indulge in the ultimate pleasure now!
Special Blend George Harrison Dad Grass Five Pack
When we asked AD's editorial team about their top product for the holiday season, commerce editor Rachel Fletcher shared that Dad Grass' organic blends are her favorite. Not only does it deliver a calming and relaxed experience, but they also just unveiled the Dad Grass x George Harrison collection in honor of late singer with its distinct mix of CBD and CBG hemp flower rolled into joints!
Weed: The User's Guide
David Schmader, the engaging speaker from a TEDx talk aiming to break past stoner stereotypes, has created an all-encompassing and delightful cannabis guide. In his book he covers everything from weed's origins to legalities while educating readers on topics such as crafting homemade bongs and comprehending THC metabolism. Furthermore, 'Consider This The Modern Man's Instruction Manual For Marijuana' provides advice on how to handle any unfortunate situations that might arise. With a plethora of helpful information in one convenient spot – it isn't difficult to see why this book is so cherished by users everywhere!