Blue Dream is a delicious-tasting strain with a fruity blueberry fragrance. It's a well-liked cannabis strain with medicinal advantages, such as aiding in the management of pain and anxiety symptoms. Blue Dream may also aid in the creation of feelings of pleasure and wellness.
Blue Dream has become a worldwide phenomena in the marijuana industry. This strain is well-known among MMJ patients, but it's also popular among recreational users since to its pleasant effects. It's appropriately named because of its fruity and sweet fragrance that reminds me of biting into a bowl of blueberries straight from the field.
Are you interested in learning more about why this strain has become so popular? Continue reading to learn more.
What Is the Blue Dream Strain?
Blue Dream is a cross between Blueberry and Haze that's considered a little sativa dominant. The blueberry sweetness of this cannabis strain is reminiscent of the sunny, golden state, according to most people. It will transport you to California while leaving you yearning for more after your first few hits.
The versatile cannabis strain Blue Dream is ideal for almost any type of user. The strain was formerly regarded as top-shelf marijuana, however it is now being threatened by stronger hybrids.
When you consume Blue Dream marijuana, you may expect to feel good. It's often accompanied by an euphoric sensation that can help with creativity.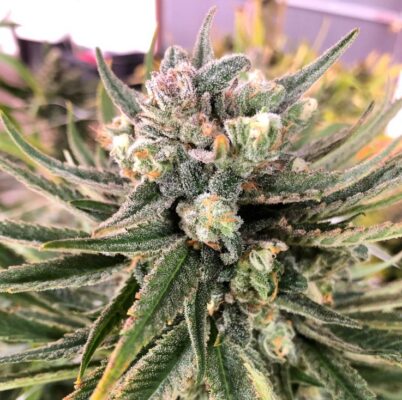 The Blue Dream strain is best consumed during the day. Some individuals, for example, use it before going to work to get them ready for the day ahead. It only takes a tiny amount to revitalize you, and some people even consume it in place of a cup of coffee in the morning!
However, remember that your employer will probably terminate your contract if they suspect you of being high! Therefore, it is best to use Blue Dream on a day off.
It's probably not a good idea before bedtime, either. This could be your go-to strain if you're going out for the evening to socialize with friends or party.
Aroma
Blue Dream marijuana is renowned for its distinctive blueberry fragrance, which may be detected upon removing the buds from the container. You might also detect hints of mango and vanilla sweetness.
Flavor
There are no unpleasant surprises in Blue Dream's flavor after you've smelled it. Although the sweet fruitiness of blueberries is clear, the spicy undertones are a welcome addition. Some individuals claim to notice slightly sour undertones, which only emphasize the delicious taste.
Appearance
Blue Dream has light green buds, yellow and orange pistils, and frosty trichomes. Depending on the strain's phenotype and the conditions in which your crop is cultivated, its water leaves might be orange to brown to dark green.
Blue Dream Grow Info
When cultivating Blue Dream, it's best to stick to tried-and-true tactics. This entails ensuring that your plants get enough nitrogen throughout the vegetative stage (cutting back on it in the flowering phase), as well as potassium and phosphorus. When cultivating this crop, magnesium is still one of the most important supporting nutrients. It also requires a lot of water, which is why it's a thirsty strain.
Blue Dream has a high yield and is easy to grow, making it an excellent choice for novice growers. When grown outside, it may produce approximately 21 ounces of bud per plant.
If you're growing marijuana indoors, you may expect to harvest up to 21 ounces per square meter planted.
The rapid development of the Blue Dream strain is exciting to witness once it reaches the blooming stage. After a few successful harvests, you may begin to look at things like soil quality in order to get the most out of your crop. If you want an even bigger yield and potentially more powerful marijuana, then a hydroponics system should be considered.
Blue Dream is a stress-resistant strain that is resistant to mold, mildew, and spider mites. It is vulnerable to spider mites and powdery mildew. Make sure you check your crop regularly and remove any unhealthy plants as soon as possible if you detect evidence of a virus or other health concerns.
THC Content – Highest Test
THC levels in 'Blue Dream' range from 17% to 25%, with the average being around 18-19%. While it isn't as potent as strains like Gorilla Glue #4, it nonetheless has strong enough effects for most individuals.
CBD Content – Highest Test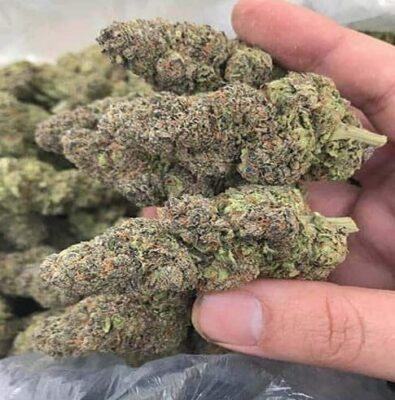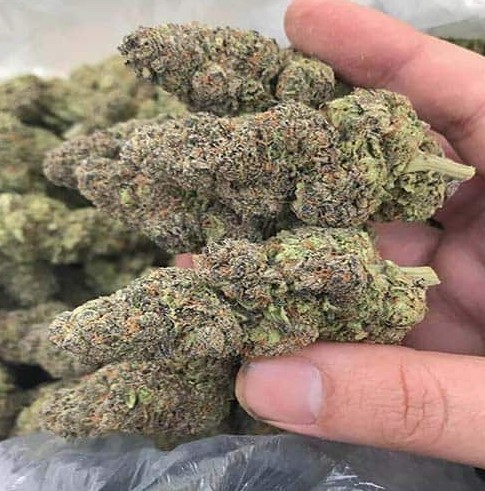 Blue Dream is a hybrid, and unlike many other THC-rich strains, it has a reasonable amount of CBD (2 percent according to some tests), which is more than most. Since many strains have less than 1%, this strain's proportion of CBD is quite significant for marijuana that wasn't intended to give a high CBD content. This cannabis also contains up to 1% CBN.
Medical Benefits of the Blue Dream Strain
The medical benefits of Blue Dream marijuana are almost unrivaled. It may help with a variety of diseases and ailments. This strain could be advantageous to those dealing with stress or living with depression. It might also assist MMJ patients suffering from chronic pain, headaches, or tiredness.
Blue Dream is a strain that has been described as uplifting, and it may be of assistance to those who feel weary, anxious, or sad.
Possible Side Effects of the Blue Dream Strain
Blue Dream is a hybrid strain that has a pleasant blue hue and offers clear-headed, creative thinking. It causes dry mouth and eyes in some individuals, but these are common side effects. If you're experiencing either of these problems, drink plenty of fluids to keep hydrated.
Some users have complained of anxiety or paranoia after using Blue Dream cannabis. In general, those who are prone to such sentiments are already predisposed. If you get anxious after taking marijuana, you should stop using it. CBD oil might be a smart alternative since it doesn't cause intoxication and has little negative effects.
Final Thoughts on the Blue Dream Strain
One of the world's most famous strains is Blue Dream. Although it doesn't quite meet expectations, it's a really nice strain that provides an energetic, uplifting impact. It has a reasonable amount of THC, albeit lower than many new crosses, but the effect is pleasant and non-overbearing.
When it comes to growing Blue Dream, proper maintenance is required since spider mites are an issue. However, if you cultivate this strain carefully, you will receive a bumper crop.