It's almost the end of the year, which means it's time to start thinking about what weed gifts you want to give your friends and family for the holidays. Our guide is full of great cannabis accessories and smoker essentials that any stoner would love. So take a look and find something special for everyone on your list this holiday season.
Weed smokers come in all shapes and sizes, but finding the perfect gift for them can be difficult. This guide was created to help you pick out a present that they'll love and appreciate. So sit back, relax, and enjoy browsing through our list of great gift ideas.
Check out our exclusive deals from Medispensary's sponsored partners for great weed gift ideas.
Blazy Susan Walnut Flight Pad 
If you know a veteran cannabis smoker, then this Blazy Susan travel tray may be the perfect gift for them! This holder comes complete with spaces for all of the supplies they might need while traveling, like a cone holder, lighter, and more.
Binske Flower
Binske only sources the best strains available to ensure an amazing flavor profile in every product they sell. Their big buds are grown with award-winning genetics and then stored in airtight, child-resistant mason jars to preserve freshness. If you're looking for a gift that will help someone relax, sleep well, or feel elated, Binkse flower is the perfect choice.
Camino Cannabis-Infused Holiday Punch Gummies 
Tired of the same old holiday flavors? Camino's gummies are packs a punch with flavorful terpenes and festive Cranberry and Cinnamon tastes. You can find this under Flower Company's 12 Days of Holidaze collection page. December has never been so delightful! Use promo code HOLIDAZE22 for $12 off your first order over $75 on flowercompany.com–expires January 1, 2023.
Cann Cannabis-Infused Drink Yuzu Elderflower 
Cann's newest flavor Yuzu Elderflower is a delicious, refreshing drink that can be found at select retailers. Each drink contains 2mg of THC and 4mg of CBD, with yuzu from Japan and lemon from Sicily. This was a limited batch so once they're gone; they're truly gone!
Cold Berger Squiggle J Tip 
Add some holiday cheer to someone's stocking with Squiggle J Tips! These are replacement tips for your J filters that come in many chic and durable designs. So find the perfect one for anyone on your list, and get your order in today so you can have it delivered before the holidays!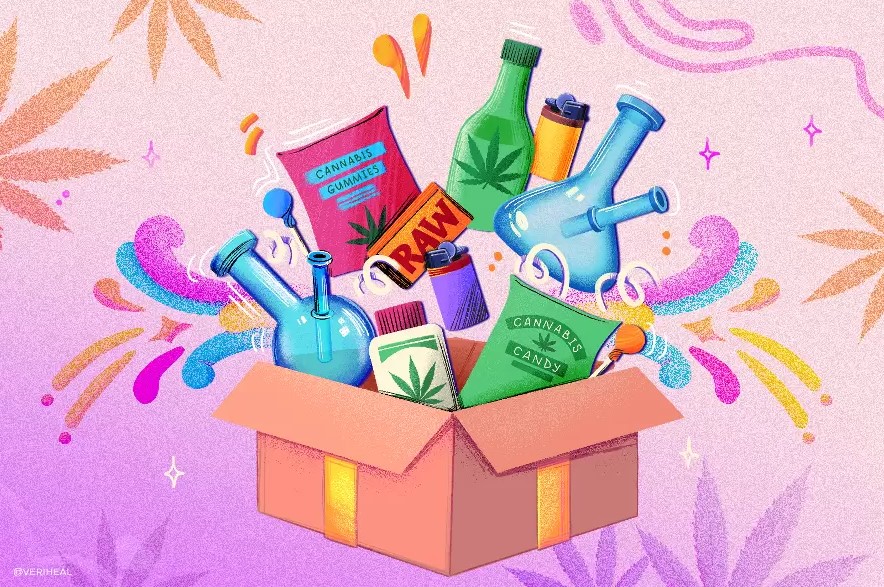 Countdown Cannabis-Infused Beverages
If you're looking to get high in a healthy way, our Orange Blast and Berry Force cannabis-infused beverages are perfect for you. They contain no sugar and only 5 calories per serving, so you can indulge guilt-free. And if you want to be able to control your dosage, our resealable top along with a 5mg measuring cap lets you do just that! So pick some up today either as gifts or for your holiday party!
Doctor Norms Cannabis-Infused Rice Bar 
Looking for an infused treat this holiday season? Look no further than Doctor Norms cannabis-infused rice bars! Their many tantalizing flavors, including Chocolate and Toasted Cinnamon, will make your mouth water. However, our personal favorite has got to be the Fruity flavor. This cannabis-based cereal tastes just like the original Fruity Pebbles, but with the added bonus of melted marshmallows for extra texture. If you're looking for a fun gift that will bring back memories of childhood snacks, then this is one product worth checking out.
Double Delicious Infusionz 
Double Delicious Infusionz makes excellent stocking stuffers or small gifts. With a THC level of 20-30mg per bag, these topicals can help anyone relax or ease pain. The MCT and cannabis extract are mixed through homogenization to create a product that can be added to moisturizers, baths, or applied directly onto the skin.
Puffco Proxy Travel Pipe 
Shatter-proof, with a built in storage pocket and sleek design–Puffco's Proxy Travel Pipe is the perfect resto-mod of a classic smoking tool for cannabis lovers with an affinity for travel. It undoubtedly ranks as one of the best cannabis products on the market today! Grab one as a stocking stuffer before they're all gone!
Tyson 2.0 Holy Ears Cherry Pie Punch Gummies  
Mike Tyson and Evander Holyfield are both boxing legends. 25 years after their infamous "Bite Fight," they're teaming up to release a special cannabis edible. Each gummy contains 25mg of Delta 8 THC and has the delicious flavor of cherry pie. If you or someone you know loves boxing or enjoys living life to the fullest, this is the perfect holiday gift!
Jetty Extracts Mistletoke Unrefined Live Resin Cartridge
Jetty Extracts have produced the ultimate Gush Mints and Legend OG combination to enhance that cookies and milk taste. The live resin is unrefined, uncut, and never combined with distillate like some other brands. Furthermore, Jetty Extract only uses premium quality fresh-frozen cannabis that has undergone cryo-extraction – a process which helps maintain terpenes and cannabinoids. So make sure you don't miss out and add some Mistletoke live resin into your cart today!
Left-Handed Infused Sugar 
If any of your friends or family love to bake AND get high, then Left-Handed has the perfect holiday present for them. Their THC-infused sugar comes in 100mg packs–10 servings per bag and is1950s style box that would look great under any tree. You can also check out their other infused kitchen items like seasoned salt and ramen seasoning.
NuggMD Medical Marijuana Card 
NuggMD makes it simple and easy to get your MMJ card without anyone needing to know. Their online application is secure and discreet, following all state telehealth laws. You'll be able to access more products and save on sales tax with a medical cannabis card! NuggMD is offering $30 off yMoonwlkr Comets & Asteroids delta-8 gummies right now!
Stone Road Holiday Pre-Rolls  
Celebrate the holidays with Stone Road and their 5-pack pre-rolls! The cannabis flower comes from a family-run biodynamic farm in Nevada City, CA. They use water straight from an artesian well and utilize mini soil to create mini ecosystems in every bed where their plants live. Choose from some delicious holiday flavors, including Rudolph's Red Eye Adventure, Super Stocking Stuffer, My Matzah Dream, and Egg Nugg.
O2 Vape Flip Ultra 510 Key Fob Vape Pen
The cannabis vape pen Flip Ultra is designed discretion and features a digital display with a puff counter, voltage information and battery life. The 650mAh batteries provides longer vaping sessions as well as increased voltage range: 2.1V to 4.8V . Also, the automatic on/off Flip Lock disables it when closed so you never have to worry about any accidental activation!
Papa & Barkley THC Releaf Balm 
For the gym rats in your life that are looking for a little something extra to add to their post-workout routine, look no further than Papa & Barkley's THC Releaf Balm. This award-winning cannabis balm not only provides hours of severe pain relief, but also delivers a warm followed by cooling sensation to help you rest and refresh properly before the next workout session. This makes the perfect cannabis gift or holiday stocking stuffer for athletes!
Presidential Moon Rocks 
The Presidential Moon Rocks are top-shelf cannabis flowers infused with premium THC distillate, making them perfect for any marijuana lover. These budtender favorites go through a proprietary infusion process that permeates the entire flower with flavor. They're also coated in high-quality kief before being sold which slows down the burn so you can enjoy them more. Get some of these potent moon rocks today and use them as stocking stuffers!
Frankincense and myrrh Zum Mist
Zum Mist comes in a plethora of scents, with the Frankincense and Myrrh delivering a lovely smell reminiscent of your favorite incense-selling store…but better because it's in your house.Canna Style mini retro swirl rolling tray
Eventually, everyone must accept maturity and stop spilling their weed everywhere. This mini rolling tray is both stylish and collects all your cannabis crumbs in one reasonably priced spot.
Keefer Scraper kief scraper tool and dry herb scoop
Kief is a potent and much-coveted ingredient that makes any smoking experience more luxurious, though itsfine texture can be difficult to work with.
The Keefer Scraper is the perfect weed gift or stocking stuffer for that special stoner in your life. Stoners have been known to use Lego shovels or even 3D print their own tiny scoops to capture all that kief, but the stainless steel Keefer Scraper is much more durable and will last longer.