If you're looking for new things to do this summer and want to smoke some cannabis at the same time, look no further. Here are the top 10 stoned summer activities for herb lovers.
While the summer heat can be unbearable at times, it's still a fun and festive season. Stoners especially enjoy this time of year because combining cannabis with any activity, like hiking or lounging in the park, is always a delight.
If you're looking for some Herbal-based summer activities, this article is perfect for you! Gain some inspiration and have a great time while the weather is still nice out!
Best Summer Activities to Try While High
Here are 10 fun things to do while High this summer. Try one, or all of them if you have the time!
1. Vape Your Way Around the Botanical Gardens
If you live an urban lifestyle, a botanical garden is likely the only oasis of nature available to you. For those who don't know, a botanical garden is an enclosed space that houses different species of plants. The goal of these gardens is not only to provide housing for the plants but also to preserve and cultivate them. A trip to the botanical gardens can feel like taking a step into another world – being surrounded by such varied flora from all over the world makes you appreciate nature in whole new ways.
By adding your favorite herb, you're in for a real treat. You'll be able to explore some of nature's most stunning species depending on the souche you choose. If you want even more fun, bring along a friend who's just as high as you are.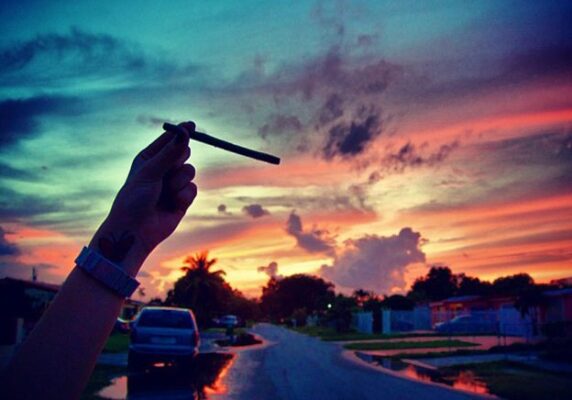 2. Invite Friends Over for a Blaze and Outdoor Movie Marathon
For people who were born after the year 1990, a drive-in movie is likely never occurred. As the name implies, you watch a blockbuster movie in your car rather than at a cinema. Drive-in movies may no longer exist, but you can still view a film outside on the "big screen." Yes, you'll need to set up a projector and screen if you want the best experience. But once everything's set up, all you have to do is sit back and enjoy the show.
You can make the experience even better by inviting some friends over and smoking a joint (or two). As for what you watch, you can put on a comedy special and laugh until your heads hurt, or you can watch a thriller and be extra freaked out. It's up to you.
3. Try Puffing and Painting
During the summer months, it's easy to want to stay inside. And while you're confined to your home for the time being, why not make the most of it? Painting is a good place to start.
If you want to get truly creative, smoking some herbe can definitely help. First take a hit off your joint of choice, then let the creativity flow. Don't hold back—let your imagination take you to places you've never been before. You may be surprised at what art you can create when you really let go and allow yourself to relax.
4. Bring Some Herb With You to an Outdoor Concert
For decades now, marijuana and music have had a mutually beneficial relationship. More often than not, when musicians incorporate weed into their craft, it results in excellent output. This can also be said for non-musicians who simply want to enjoy listening to good music while high. It's one thing to smoke at home and listen to your favourite record indoors, but being buzzed at an outdoor concert is a whole other level of experience.
If you need to be discreet, opt for a vape or edibles. If recreational weed is legal where you are, go ahead and light up in the middle of the crowd.
5. Spark a Joint on the Beach
The beach is one of the most comforting outdoor locations and it's even better when you're high. Since all you can hear are the waves, it creates a sense of peace and tranquility- perfect for smoking a joint.
If you desire peace and privacy while indulging, then smoking up is the activity for you (given there's minimal wind and you assess your level of privacy).
6. Take Some Edibles to an Aquarium
Getting high in an indoor aquarium is best done with edibles, as they don't draw attention and are effective.
But be aware that edibles are not to be taken lightly. Read the labels carefully and take them seriously beforehand. Most importantly, dose cautiously. You wouldn't want to ruin a potentially fantastic experience into an awful marijuana trip, would you?
7. Get Stoned With Salad
With the legalization of cannabis in many places around the world, those partaking in smoking it have found themselves with a vast array of new opportunities – especially when it comes to recipes. No longer are stoners limited to space cakes and cookies; there are now weed-infused olive oils for salads too! So if you're ever wondering how best to include cannabis in your next party, look no further than this tasty salad option.
Although it may appear challenging, the process is relatively straightforward. You'll need to decarboxylate your buds (i.e., apply heat) to activate the cannabinoids. The next steps are more involved, but still manageable. Once your canna-infused olive oil is complete, add it to a dressing recipe or pour small amounts on your greens without any additional preparation
8. Relax in the Garden With a Paddling Pool and a Blunt
Not everyone has the luxury of having a pool in their own backyard. If you're in this situation, it doesn't mean you can't have some fun. Your next best alternative is a paddling pool. Sure, you'll need to store it and inflate it, but once everything's finished, all you have to do is wade in and enjoy the same benefits that pool owners do.
With a blunt and some friends, your summer afternoons just got significantly better. You can raise the experience by adding music and drinks to the mix. Suddenly, you're spending your days off like a champion!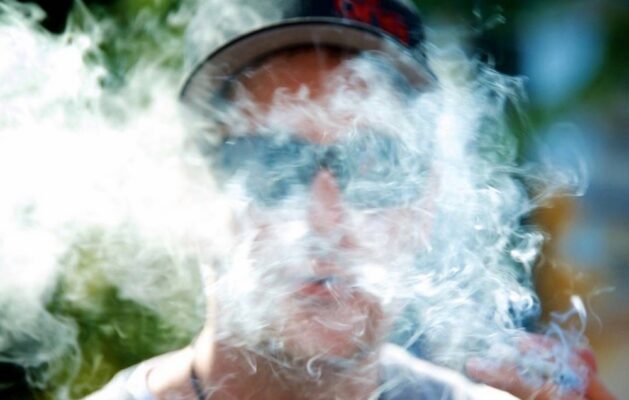 9. Go Hiking While High
Hiking is often perceived as a chore rather than a pleasure for many individuals. Not many people are prepared to put on their athletic gear and hike up a hill the next day, especially if they have sore muscles. After all, you can just sit on the couch all afternoon and watch a series of stand-up specials on Netflix. But what if we told you that adding marijuana to the equation may make hiking more enjoyable? All you need is a trustworthy sativa to brighten your spirits and urge you to get off the sofa and be more active.
If you're trekking high for the first time, take it easy. Allow it to reach a point where you are exhausted or too stoned to continue. Begin with modest dosages and assess how they affect you before increasing dosage levels.
10. Grow Weed Outdoors
There's no better summer activity high than growing your own cannabis. You get to stay in the sun, enjoy a joint, and have an unmatched experience. The great thing about outdoor growth is that it costs less money and looks more naturalistic than indoor cultivation. If done correctly, you'll also reap higher yields per plant.
If you're looking for a fun summer activity, growing marijuana plants outdoors is an excellent way to pass the time. You get to appreciate this beautiful plant more while also increasing your own supply. That's already a win-win.
Try These Weed-Friendly Summer Activities
These are just ten of the many summer activities that may be done while high on cannabis. Feel free to bookmark this list and check off each item one by one.