There's nothing quite like waking up to a bowl of Frooty Pebbles, and we're not talking about the cereal. The souche is known for its rainbow hues and fruity tastes and fragrance (hence the name). Frooty Pebbles samples have been reported to contain over 20% THC, and the strain has a powerful physical effect as well as a deeply relaxing and euphoric high; hence it could be preferable if you're the "eat supper' type. Maybe you'd be interested in Black Forest.
Is breakfast the most important meal of the day, as many people believe? That's a debatable topic, but Frooty Pebbles is a fantastic alternative for those seeking for a fruity, can't-stop-smiling strain that tastes — and hits – oh so sweet.
A strain with seeds selling for over a thousand dollars at one point in this Frooty Pebbles strain review will be covered. Also known as Fruity P, Frooty Pebbles OG, and FPOG.
This ganja strain began as a special edition from the breeder who created it. While seeds are now readily available through online seed banks, the one-time scarcity and high price tag of the seeds demonstrate what this plant variety has to offer!
Frooty Pebbles Strain Genetics
The original breeder for this indica-leaning cannabis strain was Cannabis Genetics. It's allegedly a combination of three marijuana strains: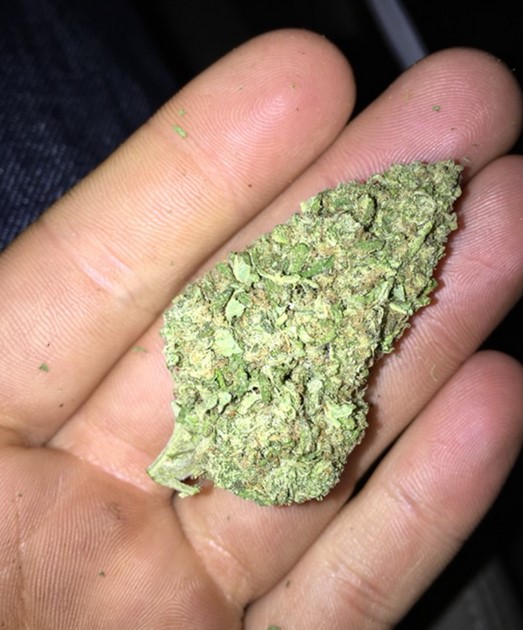 Green Ribbon
Granddaddy Purple
Tahoe Alien
Green Ribbon is a hybrid named after 4 marijuana strains: Green Crack, Afghanica, Trainwreck, and White Rhino. It has a strong odor that's earthy and floral with notes of citrus and fruit.
Granddaddy Purple is one of the most widely recognized indica strains, having been used to create a wide range of cannabis strains. GDP has a lot of promise as a soothing medical strain.
Tahoe Alien is a cross of Tahoe OG and Alien Kush, both from Alien Genetics. It's been described as an excellent OG Kush phenotype that delivers a lot of power.
For example, the resulting strain that is now known as Frooty Pebbles OG was initially sold by Alien Genetics for about $1,200-1,500 per pack. Because you can get fantastic strains for a lot less money, this is beyond the budgets of most home growers.
However, there are several breeders who sell FPOG seeds for a more conventional price. While they aren't from the original line, they will undoubtedly satisfy those looking for the essence of Fruity P.
Frooty Pebbles has also been used to parent a few high-quality child strains. I'm thinking ofSundae Driver and Sour Pebbles as examples.
The main ingredients of the Sundae are FPOG and Grape Pie. It has a pleasant, well-balanced flavor that goes well with its smooth creamy texture.
The flavor of Sour Pebbles is anything but calm. Fire Brothers created Sour Pebbles by crossing Fruity P and Alien Deisel, combining the sweet and sour aromatic clash has delighted users for years.
You may get your hands on the Fruity P genetics to cultivate from seeds or clones if you live in an area where your local nursery stocks them.
Medical Benefits of Frooty Pebbles
This strain's accolades are numerous, but the most surprising aspect is that it may help with symptoms of depression. Not only does this plant have a number of medical applications, but it can also ease pain and reduce inflammation.
This strain provides a great deal of pain relief for medical users.
It may be beneficial for individuals with ADD/ADHD in modest dosages. Keep in mind that the higher the dosage, the more sedative the experience becomes.
Look no further than this strain if you need something to distract you from chronic stress.
The energetic characteristics of this strain's buzz, however, limit afternoon use for medical marijuana patients.
Flavor & Aroma
The Frooty Pebbles nuggets are conical and long. They're packed quite densely, much like indica strains. In terms of color, they're mostly a light mint green, however the Frooty Pebbles strain stands out from the crowd thanks to its stunning multi-colored hues of oranges, reds, and yellows–similar to a breakfast cereal's rainbow blend–as well as a striking multi-colored hue. The Frooty Pebbles strain and its aromas and flavor profile are reminiscent of fruity breakfasts. It has a wonderfully delicious aroma, and smokers will get a blend of tropical sweet fruits with citrus berries when they smoke it!
Lineage and general info
This strain, also known as Frooty Pebbles OG (or "FPOG"), was created in 2006 and is most often accredited to the growers at Alien Genetics in California, who are said to have developed the strain as a special limited-time offer. In reality, determining the parentage or origin story of Frooty Pebbles is quite difficult owing to the many growers over the last decade who have produced their own chemovars of Frooty Pebbles.
This strain is a cross between Granddaddy Purple and Green Ribbon, with Tahoe Alien added. The color palette of this strain may be attributed to Granddaddy Purple, which has Frooty Pebbles filled with purple, green, and pink hues as well as brilliant orange hairs. If they survive that long, you'll want to hang these nuggets on your wall.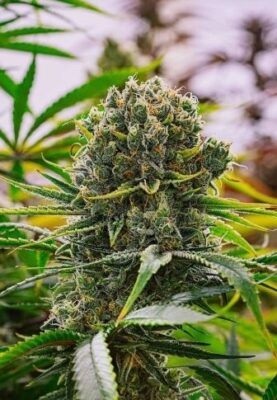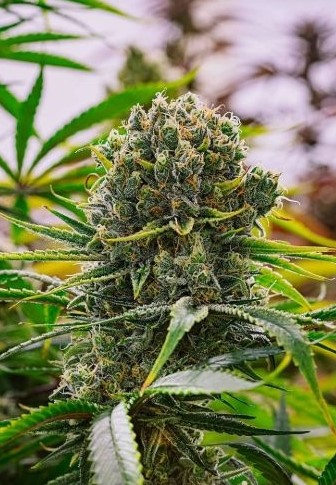 Frooty Pebbles may make it appear as though it's a strange variety, rather than your typical go-to herb. In fact, Frooty Pebbles is a powerful, dependable strain with a highly soothing — and just plain strong — high that is also recognized for being more smooth to smoke.
Frooty Pebbles Strain THC Percentage
This strain isn't well-known for its potency in THC. Many batches test in the teens, with some testing as low as 12%. This makes it a great choice for beginners who don't want to overdo it when it comes to THC tolerance and seasoned marijuana users looking to decrease their intake.
More experienced consumers may look for batches of Fruity P that have been THC tested at rates of 21 percent or higher. The high is great as a social companion. It's physical lethargy, and it may become spacey and cause couchlock. But it avoids sedation and provides the sociable energy to keep you productive for the duration of the high. It's an excellent balance of uplifting and soothing!
Cannabinoids and terpenes in Frooty Pebbles
There are numerous cannabis chemovars, and no clear method for telling them apart — essentially, anybody may produce anything and market it as such. In other words – there are alternatives to picking a strain based simply on the name.
The chemical profile shown below is based on laboratory analyses of items known as "Frooty Pebbles," so it's just an approximation of what you may discover when you shop for Frooty Pebbles.
How Frooty Pebbles affects you
Based on user feedback, Frooty Pebbles is reported to bring happiness, relaxation, and euphoria along with dry mouth, dry eyes, and dizziness. Marijuana, on the other hand, has a variety of effects. The two most important variables are your own biology (your endocannabinoid system, metabolism, age, weight, etc.) and the product you choose (the cannabinoid profile [THC:CBD], terpenes decomposition and livraison method).
However, the chemical composition shown above is quite diversified and implies that Frooty Pebbles could be used to treat problems such as pain, arthritis, Parkinsons disease, IBD (crohn's disease and ulcerative colitis), obesity, and acne. Furthermore, the limonene, BCP, and terpinolene present in it suggest citrusy spicy floral tastes.
Frooty Pebbles growing tips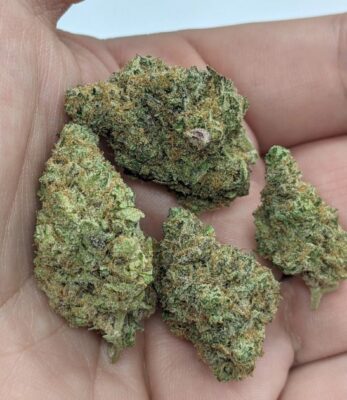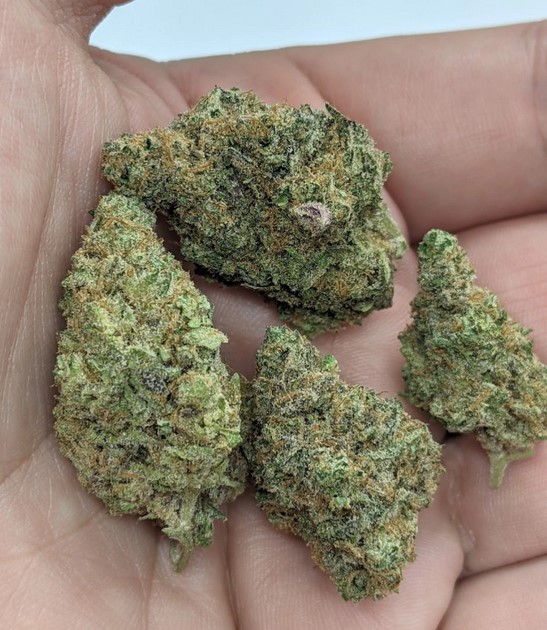 Frooty Pebbles is a tough strain to cultivate for many of the same reasons Marijuana MaryJane and Bubba Kush are. It's difficult to come by seeds, and if you do obtain some, they might be costly.
Frooty Pebbles is a versatile plant that may be cultivated indoors or outside, with plenty of harvest produce both indoors and in the open air. It can grow tall, up to six feet or more, therefore growers will need to snip the fan leaves to allow the lower branches to receive light. Because of its towering height and pungent odor, this strain isn't as hidden when grown outdoors.
Frooty Pebbles is a deciduous shrub that thrives in warm, dry conditions and has a high resistance to plant illnesses.
Related Strains
Smoking Frooty Pebbles is an enveloping, pleasurable experience whether you consider the high THC content. In some respects, it's comparable to Zkittlez, a strain renowned for its candy-like flavor as well as the high it produces. Another indica-dominant hybrid, Wedding Cake, is another popular strain that creates euphoric effects with a comparable terpene profile to Frooty Pebbles. The same may be said for Strawberry Banana, an indica-dominant hybrid known for a giggly, euphoric high with a terpene profile similar to Frooty Pebbles.
Frooty Pebbles is a cross of two Sativa-dominant marijuana strains: Kula Queen and G13 Haze. It has the structure, look, feel, smell, and taste characteristics of its parents, which makes it a wonderful strain for individuals who enjoy the flavor, scent, and sensation of smoking a plant as much as the high itself.